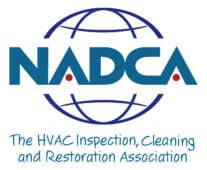 NADCA is the global trade association representing the HVAC inspection, cleaning and restoration industry. In order to be a member of NADCA a company must:
have at least one NADCA certified Air Systems Cleaning Specialist (ASCS) on staff

maintain general liability insurance

agree to clean according to ACR, the NADCA Standards and comply with NADCA's Code of Ethics
The Restoration Industry Association (RIA) is the oldest and largest non-profit, professional trade association dedicated to providing leadership and promoting best practices through advocacy and professional qualifications for the restoration industry. 
Representing cleaning and restoration professionals from member firms specializing in textiles, environmental issues, and restoration; RIA provides credibility, education and business improvement events to maximize industry exposure and advance knowledge in the cleaning and restoration industry. With an extensive network of professionals working towards similar goals, RIA has become a trusted resource of knowledge for those involved in cleaning and restoration.
DKI's mission is deeply rooted in our passion for helping others through fast, efficient response methods. We understand how devastating accidents and tragedies can be to those impacted and their communities. And, our team of expert service providers is committed to help. Our full-service response can provide the support you need to help get you back on your feet quickly. We're proud to be one of the largest property restoration organizations in North America with nearly a half century of experience. We are dedicated to provide solutions for a quick recovery when disaster strikes to our clients, including property owners, insurance professionals, risk managers, and more. 
ACTIVE IICRC CERTIFICATIONS
Applied Microbial Remediation Technician, Applied Structural Drying Technician, Carpet Cleaning Technician, Carpet Repair and Reinstallation Technician, Color Repair Technician, Commercial Carpet Maintenance Technician, Fire and Smoke Damage Restoration Technician, Health and Safety Technician, Journeyman Textile Cleaner, MASTER Cleaning Technician, MASTER Fire & Smoke Restorer, MASTER Textile Cleaner, MASTER Water Restorer, Odor Control Technician, Upholstery and Fabric Cleaning Technician, Water Damage Restoration Technician
The ICRA is a nonprofit organization of Cleaning, Restoration, and Inspection firms. It is comprised of 6 trade associations, including CRA, MCRA, MSPCA, PACR, NYRCI, and SCRT. The affiliate associations have united to streamline their administrative organizations, share resources and synergistically move the industry forward.